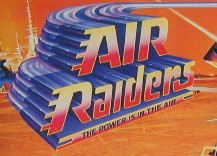 "FREE AIR FOR FREE MEN!"
Airlandia! A distant world where air is more precious than gold!
Where the cruel Tyrants of Wind have seized control of ALL THE AIR.
Only the Air Raiders, a band of valiant rebels, dare defy these evil dictators! With a convoy of air vehicles, these brave heroes battle the Tyrants, struggling to restore the breath of freedom.